Club Story
St Francis Football Club Company Limited by Guarantee is an Irish association football club originally based in The Liberties in Dublin. The club is now based in Baldonnell, Clondalkin operating 25 teams from ages 4 to 40.
St Francis was founded by John Hyland and friends in 1958 initially as a schoolboy club. In 1968, the first adult side was introduced as St Francis joined the Athletic Union League, winning division 2A in their first season. In their second season St Francis won the FAI Junior Cup, the highest honour for junior sides.
The club progressed into the intermediate ranks and soon become one of the top teams at that grade, winning the Leinster Senior League four times. In 1989–90 St Francis became the first non-League of Ireland side to reach an FAI Cup Final in over 50 years before finally losing to Bray Wanderers. Their fairy-tale story, combined with the final moving to Lansdowne Road saw a crowd of over 33,000 witness the historic final.
The Schoolboy teams have had fantastic success since the move to Baldonnell in the mid 1990's competing at the top echelon of the DDSL and MGL and producing a significant number of talented youngsters.
"The Francis Way" - The club takes pride in its ethos, "The Francis Way" which is centres around developing every child in our club around 3 key pillars.
Physically
Improving Health through training
Strength and Conditioning Classes in our Own Gym
Mentally
Building Self Esteem and Confidence
Help build character and Identity
Increase mental wellbeing
Socially
Increase Social Skills
Develop real and long-lasting positive friendships
Breed Academic Success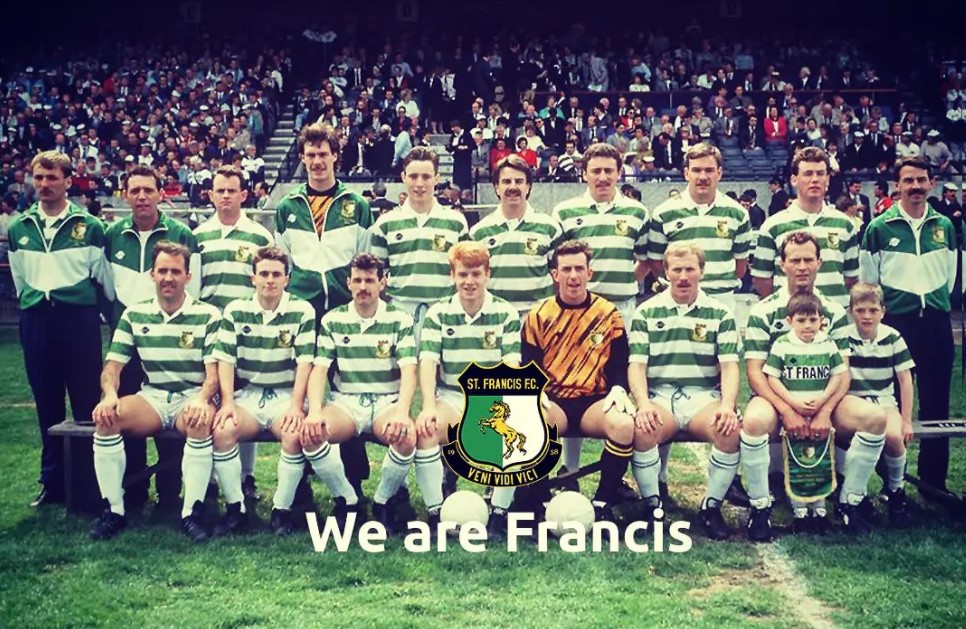 Promoting Education
The 3 key pillars of "The Francis Way" will help develop our members academically, giving them essential tools to succeed. 
To further support our members, we have entered into a link with TU Dublin to provide guidance and support to our members around college courses that may be suitable for them. We see this as opening the door to our members horizons and helping them prepare to succeed in life.
We see this as an essential responsibility of our club due to the growing influence our club has on our members formation years.