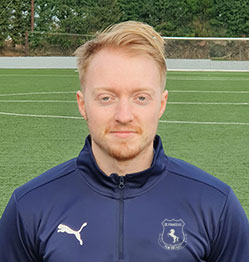 Jeff

Lahart

Role: Small Sided Games Director

Jeff is the dedicated Small Sided Games Director working with all teams from the Academy to U12. Jeff is a UEFA B Qualified coach.

Jeff has a variety of coaching experience having worked with grassroots clubs in Ireland, as a Representative Squad coach with the S.D.F.L, a stint working in America with various clubs and organizations, and with multiple clubs in The League of Ireland, including Bray Wanderers, Shelbourne F.C., and UCD A.F.C.

Jeff has a degree in Sports and Exercise Management and a Master's degree in Coaching Science in Sport, both from UCD. His education and practical experience has helped to shape his sporting and football beliefs which are centred around creating fun, challenging environments for players to learn through play, all while developing life skills.

Jeff currently works as a Coach Education and Development Specialist for Special Olympics International which also aligns with his beliefs that sport is a medium for inclusion irrespective of background or ability.